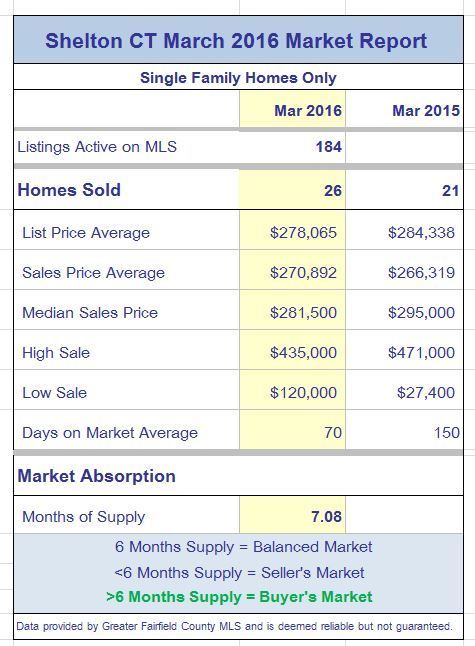 Shelton CT single family home sales for March 2016  INCREASED 24% as compared to March 2015 sales.
Mixed results on the averages with the listing average going down 2%, closed sales average INCREASING 2% and the median GOING DOWN 5%. 

The absorption rate recoved quite a bit from last month coming in at 7.08 months.  Translation: it would take 7.08  months to sell off the present inventory of 184 homes.  See the three month trend chart below for an absorption rate visual.

 Going forward, there are 46 homes under deposit and 46 homes pending.   These numbers are slightly higher than last month.

Thinking of Buying or Selling in Shelton CT? SEARCH homes here.
  Shelton CT March 2016 Homes Sold 
as recorded in the Greater Fairfield County MLS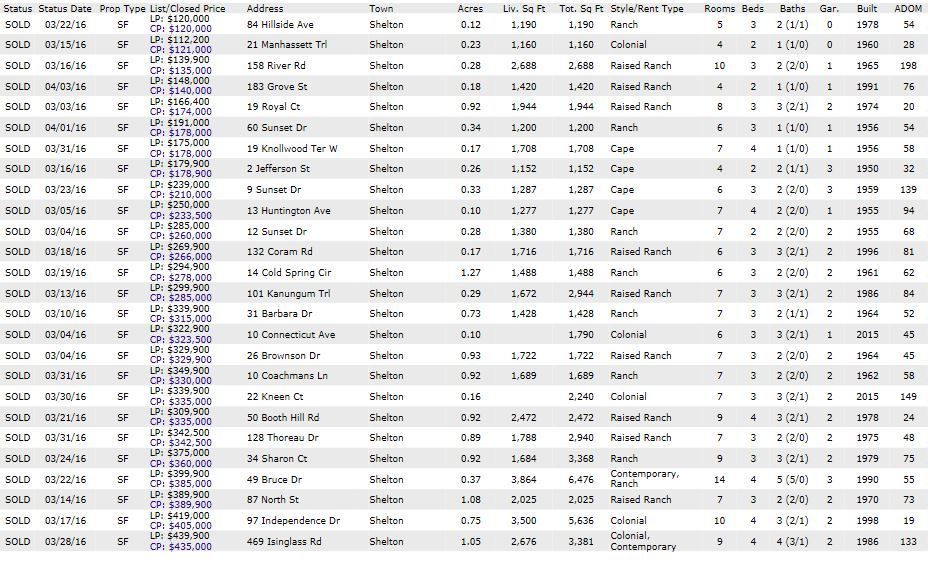 Where was the sweet spot for sales in March?   Back into the historically strongest range -- $300K - $400K. 
March 2016 sales jumped up 100% from last month.  Nice rebound from that low last month.

The average sales prices throughout the last year provides buyers and sellers with an even better understanding of Shelton's present and past market. 

The absorption TREND, which shows the number of months it would take to sell the entire inventory at the same pace, came in at 10.22 months for the last three months, in a buyers market statistically.  Two months of low sales pushed that rate up considerably.
This rate is for ALL houses. If you are selling your home, your agent should calculate the absorption rate for your price point to get a more accurate analysis. Some price points favor sellers; others favor buyers.

Thinking of selling? Get a complimentary free market analysis for your Shelton home.
The success in selling your house in Shelton or any other community is dependent upon accurate pricing, effective preparation, calculating the absorption rate for your particular price point, and having a strong online marketing presence. 
Contact me   for advice on how to list your home effectively in today's market. Get an exceptional marketing plan for your money.
Sellers:  Please read Biggest Home Seller Mistakes if you are thinking of listing your home.
Related posts: 
Shelton CT Market Report Archive
Living in Shelton CT - Real Estate and Homes and Condos for Sale
Date Source: Greater Fairfield County Multiple Listing Service -- April 25, 2016. No representation or warranty is made to the accuracy of this information.
Shelton CT Real Estate Market Report and Homes Sold -  March 2016

Barbara Altieri, REALTOR®
Listing and Buyer's Agent
Certified Short Sales Specialist
RealtyQuest Real Estate Sales and Services Team
Kinard Realty Group
30 Huntington Street, Shelton CT 06484
Office -- 203.929.1752
Cell -- 203.520.6930
Email -- barbara.altieri@realtyquest.com
Connect with me socially: