Homes sales in Monroe CT for the month ending April 30, 2016 showed a 50% INCREASE IN SALES compared to April 2015 and 133% increase from March sales.  

Average list and sales prices both decreased 14% with the median going UP 18%.  These results make a good case for looking at ALL the numbers and understanding the difference between median and averages.
 

The market absorption rate was at 5.00 months.  Translated it would take 5.00 months to sell off the present inventory of 105  homes putting Monroe back into a seller's market statistically for the month. 
 CLICK HERE TO SEARCH for Your New Home in Monroe, CT
Futures show 39 houses under deposit and 34 properties under contract.  Solid.

Thinking of selling and want to know what your home might sell for?  Get a FREE Monroe real estate comparative market analysis.
Sellers:  Please read Biggest Home Seller Mistakes if you are thinking of listing your home.  Don't make the #1 biggest mistake! .... you KNOW what it is.
 
Which houses attracted buyers and sold in Monroe CT in April 2016?
Monroe CT April 2016 Homes Sold
(as recorded in the Greater Fairfield County MLS as of 5/25/2016)
The absorption trend, which shows the number of months it would take to sell the entire inventory at the same pace, came in at 8.75 for the last three months, which statistically is a buyer's market. A few slow sales months pushed this number up.  Higher sales will drive it down, as can be seen by the 5.00 rate above for April.

Note that this rate is for ALL houses.  If you are selling your home, your agent should calculate the absorption rate trend for your price point to get a more accurate analysis.
 WOW!  Nice rebound in sales from the previous months, going up 133% from March.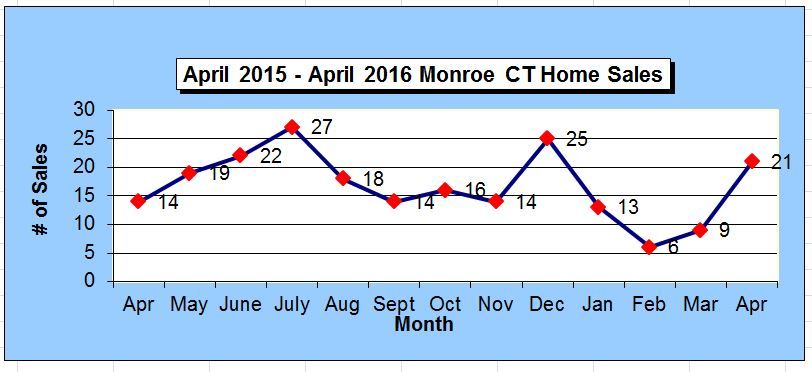 Good rebound here as well from last month, with the April average in more familiar territory.  This chart IS based on the averages, which will be a different result from the median, as explained above.
SEARCH for Your New Home in Monroe, CT
The 'sweet spot' for sales this month was in the most popular $300 - $400K range.  No matter which range you are in,  prepare your home wisely for a sale.  Refer back to the 'home seller mistake' link above.
Want to know what your home is worth in Monroe? Get a FREE Monroe real estate comparative market analysis done for your property.
The success in selling your house in Monroe CT or any other community is dependent upon accurate pricing, effective preparation, calculating the absorption rate for your particular price point, and having a strong online marketing presence. A house will sell if there is a synergy among all four.
CONTACT ME for advice on how to LIST, MARKET, and SELL your home effectively in today's market. All agents do not provide the same marketing services.
Date Source: Greater Fairfield County Multiple Listing Service -- May 25, 2016. No representation or warranty is made to the accuracy of this information.
Related Monroe CT Posts:
Monroe CT Market Report Archive
Whitney Farms Homes and Golf Course Monroe CT 06468 
Great Oak Farm Colonial Homes in Monroe CT
Monroe CT Real Estate Market Report and Homes Sold April 2016
Barbara Altieri, REALTOR®
Listing and Buyer's Agent
Certified Short Sales Specialist
RealtyQuest Real Estate Sales and Services Team
Kinard Realty Group
30 Huntington Street, Shelton CT 06484
Office -- 203.929.1752
Cell -- 203.520.6930
Email -- barbara.altieri@realtyquest.com
Connect with me socially: